The
dissipation factor tanδ
is the quotient of the active and reactive components of the impedance.
The losses occur mainly in the dielectric and are represented by R in the equivalent circuit diagram.
Parallel to R is the insulation resistance R
is
, which, in fact, only affects tanδ at very low frequencies.
Further dissipation is caused by the finite conductivity of the electrodes and the transfer resistance between the electrodes and the terminating wires.
This is represented in the equivalent circuit diagram by the series resistance r.
L represents the remaining self-inductance.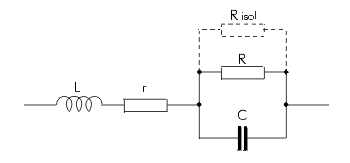 The dissipation factor is, for example, of importance for AC capacitors, which are subjected to strong currents: too high a tan can lead to excessive heating brought about by the incoming active power and thus to a shorter life time.
ESR (Equivalent Series Resistance)
Values of ESR are not directly stated in the data sheets of plastic film capacitors. The ESR for an individual capacitance value C can be calculated by the formula
ESR = tanδ x (2 x π x f x C)
-1
tanδ: see data sheet of the respective WIMA type
f: frequency of the AC voltage share in the application