Metallized capacitors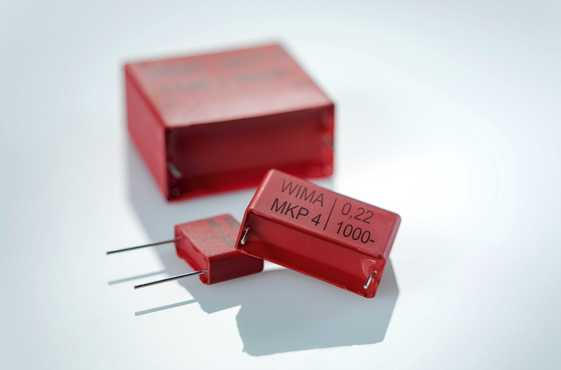 In the case of metallized capacitors, thin layers of aluminium (approx. 0.03 µm) are vacuum-deposited on the insulating film as conducting electrodes. In the case of a breakdown, the short circuit current causes the thin metal coating to evaporate around the point of failure and an insulating area is formed. The capacitor remains intact (self-healing). Due to their construction principle metallized capacitors stand out for their very favourable capacitance/volume ratio.
Metallized WIMA capacitors in PCM 5 mm - 52.5 mm are available in two dielectric versions. Capacitors with a Polyester dielectric (PET) are suitable for general applications such as coupling, decoupling and by-passing. By making use of ultra thin film and appropriate manufacturing experience, it has been possible to achieve high capacitance values in very small box sizes. Polypropylene capacitors (PP) are used in the high frequency field. This includes resonant circuits, power supplies, deflection circuits, oscillator circuits and audio equipment.
Upon customer request, larger box sizes can be supplied in 4-pin versions. Types with terminating plates can also be manufactured on request. The advantage of this method of construction, besides the improved mechanical stability of the component on the board, is the excellent electrical contact reliability.
WIMA capacitors are produced with the proven box technology using solvent-resistant, flame-retardant plastic cases according to UL 94 V-0. They are environmentally compatible with the RoHS 2011/65/EU regulations of the European Union.
New box sizes, values and range.
The values of the WIMA MKM 2 and WIMA MKM 4 ranges according to the WIMA main catalogue 2009 are still available on request.
* The insulation resistance data refers to the lowest rated voltage of each range.